The long-promised book is very nearly nigh: I have put it on pre-order on Amazon, and it will be available for all on December 12th, which is next Tuesday.
The book is called The Golden City, and it grew up out of an image in a dream that I had sometime in middle school. (I've been saying thirteen, because the essence of good storytelling is specificity, but I actually have no clue.)
The image was of a perfectly empty city contained within square walls, with a massive, redwood-like tree growing at each corner, sitting alone in the middle of a sandy desert. The image that came immediately after it, though I can't remember if it was actually in the same dream, was of descending staircase after staircase into the depths of the city and finding a pool shaped like a half-circle in the very lowest of of sub-basements. The pool was very deep, and if one were to dive into it and swim to the very bottom, there was a door into the wall, leading to the other half of the pool. This other half was in the same city, identical in every wall, doorway, and stair, but now the city was in the middle of forests and fields and filled with people.
I think everyone is entranced the first time they hear about or find pictures of Petra, the ruins of a Roman city in the Jordanian desert. The idea of a secret history – a place where lives developed an intricate path around insurmountable natural features, first hidden and now lost – is forever engrossing. I read Tamora Pierce's Lioness Quartet at an impressionable age, and her desert city of Persepolis owes a bit to the legend of Petra. (In fact, I suspect that was how I encountered Petra in the first place.) It's not just the desert or the age or the juxtaposition of delicate architecture against the massive forces of nature, of course – it's also the mystery of emptiness and abandonment. Where did the city come from? Why is it still here? Where have the people who made it gone?
I didn't really know the answers to any of those questions for my city.
It's been a while since I was in middle school. The empty city bumped irritatingly around in the back of my head throughout high school and then college and even grad school, but I was never really sure what to do with it. It was an unsatisfying loose end; I had a gorgeous setting but no particular reason to use it. As a thirteen-year-old, I had known vaguely that I wanted it to be one of a network of other bizarre and interesting cities; I even did a sketch of another city made entirely of canals on graph paper. That was about as far as I got, though.
My first visit to a medieval city: Toledo! (I'd visited some quite elderly temples in Japan before this point, but to my knowledge all the urban areas I visited were from the Edo period at earliest.)
The setting itself got richer in my head as I met more and more of the imagined elements in real life. Without a doubt the most powerful influence on the imagined city (eventually named Diagasar), in terms of the architecture, smells, colors, and ambiance, was the three months I spent in Spain in 2010. I'd never seen massive stands of lavender before then, or olive trees, or so many massive buildings of golden stone all clustered together in a tight labyrinth. Toledo, Salamanca, and of course Granada, particularly the Alhambra, all provided details for Diagasar – not just the feeling of walking through narrow passages carved into stone, or the experience of many tightly interlocking spaces, but also the sense of a still afternoon in a hot, dry, painfully sunny place. (Nothing is ever that still in Iowa. We have mosquitoes.) The terraced roof gardens on the top of my city are pretty well lifted from the Alhambra, as well as the water running in channels alongside the flower beds.
Court of the Myrtles at the Alhambra. No, the picture isn't centered, shhhhh.
Though I cannot for the life of me remember which cloister in Salamanca this lavender was growing in, this image is probably the most potent one I carried away with me from Spain.
I went to Venice, which is of course the primary inspiration for the city of Foulkrin in the book, as it had been for that map sketch I'd made a decade earlier. (I didn't know anything about Venice but I did know there was water involved.) While most the buildings in my head would later owe more to visits to Paris and Belgium, the extremely pungent smell of the Venetian lagoon is always there when I imagine my own city of canals.
The idea for a floating city of pavilions (Gamanche in the book) probably had some roots in walking about Nanzen-ji and other temple gardens in Kyoto, observed from a whole series of wooden platforms that seem to float.
It was drizzling all the day I was there.
There are dozens of other experiences that filled out my mental image of the setting, without me really even being aware of it happening. I experienced sand dunes for the first time in Utah (and also taking a long hike in ankle-deep sand, which may have informed one of my protagonist's deep dislike for that activity). I walked through many different forests (something it's surprisingly hard to come by in western Iowa.) I ducked under a lot of low wooden rafters and explored a few elderly libraries.
Coral Pink Sand Dunes State Park, Utah. You can actually snowboard down the dunes, particularly if you are more coordinated than I am.
It is, of course, almost trivial to say that as much as I needed physical details to fill out the city, I needed knowledge of people far more. My first instinct as a kid was to reach for my small circle of acquaintance as characters, so a huge number of my first storytelling attempts had four protagonists – myself as a self-insert, my best friend, and my two younger cousins. I tried to put the same group in my awesome setting, but it didn't yield a particularly satisfying story. Even so, that constellation of four remained a shadowy imprint whenever I thought about it.
When I came back to the story two years ago, it was after having spent college and grad school running around with a reasonably varied host of friends with a lot of different experiences. My initial daydream had been about four white girls wandering around in the sand, but that no longer seemed likely or particularly interesting. I had definitely associated the desert in question with either the Sahara or the Arabian desert, so I started researching trade routes in the Maghrib and the Middle East. How did people enter the area? What brought them into and through the desert? Where did they end up? Having a somewhat mediocre history education myself, I was surprised to learn that there were tight trade links between the Arabian peninsula, east Africa, and India through the larger portion of the last two millennia.
I had started to think that maybe Tadala (whose name changed multiple times while I was writing) could be from the area around Lake Malawi. This was not entirely an arbitrary selection. I have a friend who was born in Malawi, and in a fit of curiosity and vague creative intent, I had looked up some stuff a few years ago. As with many things, some of that research stayed in the back of my head.
The trade route maps showed a path that my character could follow to get to the desert: overland to Zanzibar, then by sea to Aden, an ancient Yemeni city in the basin of an extinct volcano.
Again with the Dutch! This view of Aden is from the last 1500s or early 1600s. There's a high ring of hills and rocks around the lower city, though I'm not sure this picture shows the ancient cisterns and channels for collecting water.
While I've never traveled in the Middle East, the grad program I did was based out of the UAE and particularly recruited students from that region. The program exposed me to a mishmash of Islamic cultures, among the new people I met, the research focuses of the labs involved, and the generally close ties that francophone Europe has with various Arab and Islamic countries. I started spending a lot more time on Wikipedia and listening to history and culture podcasts, trying to put random bits of information from my new crew of grad school friends into context. When it came time to figure out the origins and backstory of the two younger girls in my story, that information was also floating around in my head.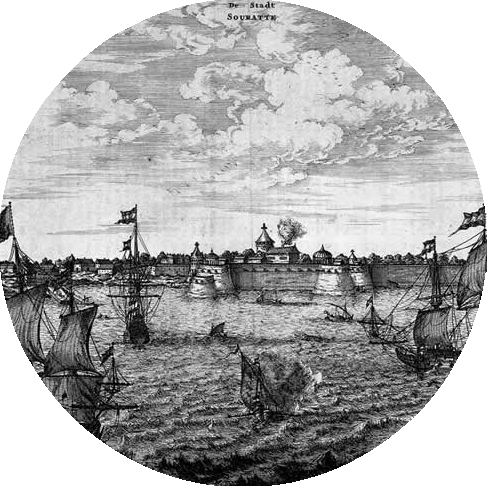 A Dutch engraving of Surat from the 1600s.
I had vague intentions of a collision with nascent colonizers in this book, so it made sense to set portions of the "real world" sections in the late 1500s or early 1600s. While it would have been perfectly reasonable for Tadala to encounter Portuguese or Dutch traders in this part of the world (in fact Aden was occupied by the Portuguese for two decades in the first half of the 1500s), like any good English speaker who has been exposed to the Pirates of the Caribbean franchise, I have certain associations with colonizing traders in south Asia. The first merchants that come to mind are always the East India Company. Researching them brought me to Surat, Gujarat, where the first EIC trading factory was established in 1612. The last portion of the book is somewhat loosely based on that walled city and the nearby factory (which, despite the name, was more like a textiles storehouse).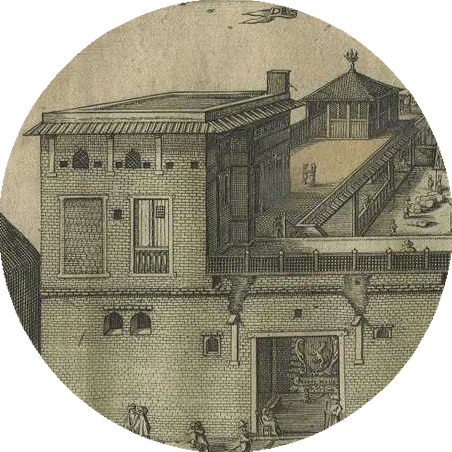 A different (still probably Dutch) engraving of the British factory in Surat from 1668.
This book has brought a lot of different experiences from my life together. Many of the personality quirks and challenges of Elabel, the other protagonist, come from being a reclusive and socially anxious child myself. I imagined what it would have been like to reach adulthood without any help to breach that layer of isolation. Elabel is another person for whom books are easier than humans. While she's definitely not me (as I have never been tall or skinny), she shares a lot of my fears and struggles and interests.
But then, all of my characters do, and all of them reflect a variety of people I know and have known. The Golden City is first and foremost a fun fantasy novel, an adventure/quest story about two young women just hitting adulthood, but I thought it might be more enjoyable if the reader had some idea of where I was coming from when I wrote it.
I hope very much that you all enjoy it.
If you're interested in pre-ordering my book on Amazon, you can do that here!