Omaha is a mid-size city on the eastern edge of Nebraska. The population within city limits is nearly 450,000; the metro area, the largest component of which is its diminutive sibling on the Iowa side, Council Bluffs (population 62,500) has passed 900,000.
I grew up twenty-five miles north of Omaha, in a town that arguably saw its last heyday in the 1950s. This area was once dominated by trains. The First Transcontinental Railroad established its eastern terminus in Council Bluffs, and the Union Pacific, the U.S.'s largest train company today, is headquartered out of Omaha. The old Union station, an Art Deco iceberg finished in 1931, was turned into a museum of western heritage in the 1970s. The Old Market, a neighborhood that stretches roughly from 10th to 13th Street on the east-west axis and Dodge Street to Jones Street on the north-south line, was my first experience of what urban life could feel like. The teeth-rattling brick streets have been maintained (though "maintained" is perhaps a dubious word to use in relation to Jones Street,) and the industrial graffiti of warehouse advertisements has been touched up, leaving a smell at the back of the mind of what this place must have been like when it was where workers on their way home from the factories in Jobbers Canyon (since demolished to build the ConAgra Park) picked up their produce and groceries before taking the tram back home. It's an extremely faint smell, to be sure (and there's some bitterness now that ConAgra has decided to move their corporate campus to Chicago,) but it was enough to make a small heart hungry.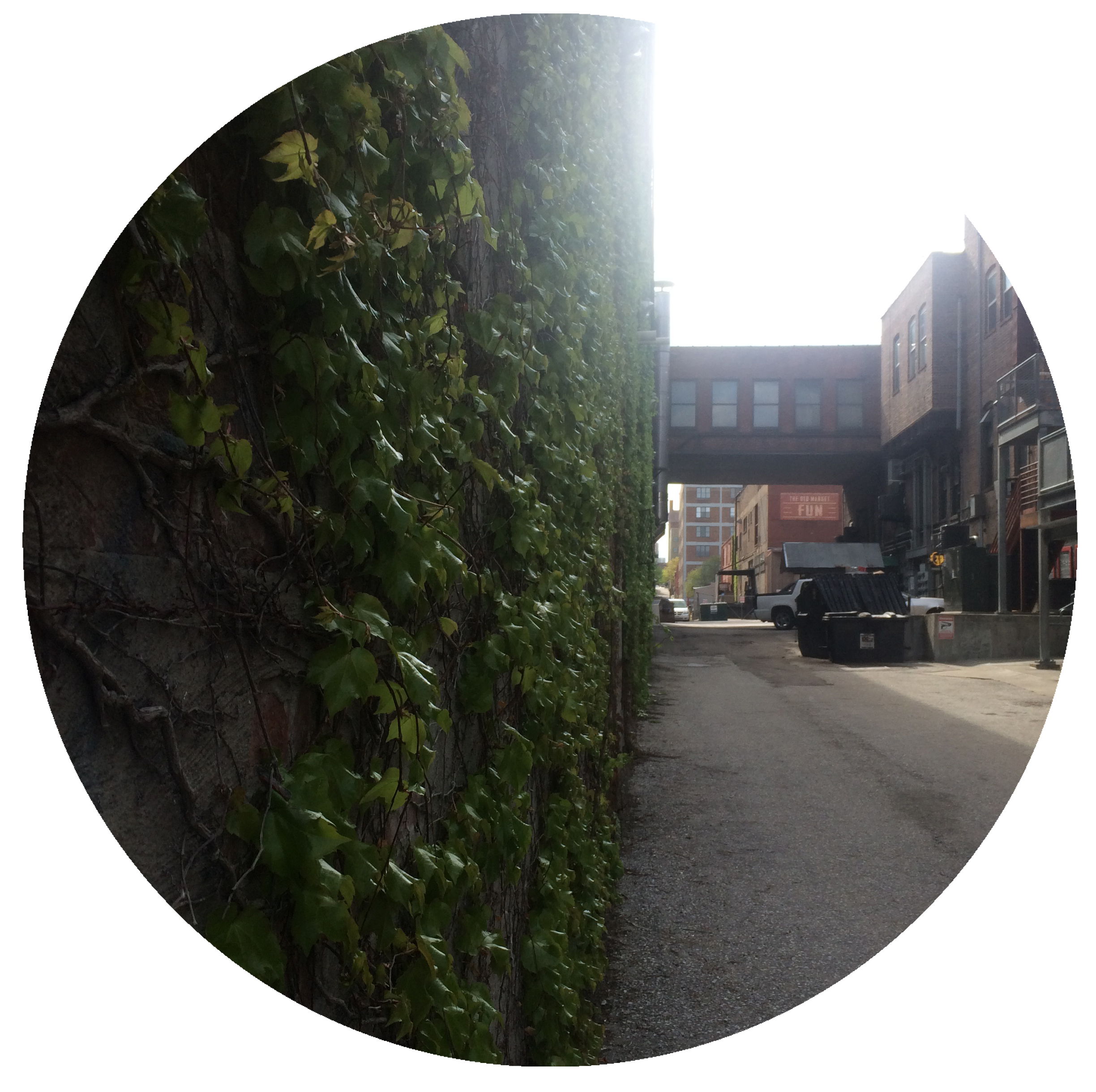 I have a deep affection for every alley filled with dumpsters in the Old Market.
I've been back in the area since November of last year. After an eight-month trip around Europe, I found myself unemployed and deeply embattled with myself to finish my book, The Golden City. It's not my first book, but it is the first one I've seen through to completion. I had discovered, to the amusement of the writing gods and my own frustration, that it is remarkably difficult to write consistently while traveling. There were cathedrals to be photographed, long walks to be taken, sketches to be done, French to be struggled through, goats to be milked, and pints to be either contemplatively nursed or sucked down, depending on how interested the old men in any given pub were in American politics. The most writing I got done at one go happened in Cork – where the two-hundred-year-old walls of the stone farmhouse prevented my phone from picking up even a hint of a connection and the daily rain prevented me from sitting on the overgrown wall of the drive to chase the faint signal just by where I'd planted some daffodil bulbs for my hosts – and Wales, where it also rained a great deal, and where the cat slept on the floor of the sunroom in a particularly nonjudgmental way. In Donegal, where I was able to get an excellent connection off a nearby cell tower, and Galway, where I cooked most (well, many, anyway) of the dinners and sat painting in the kitchen when I wasn't cooking, and Belle-Ile, where I spent all my free time walking the path that runs along the cliffs on the west edge of the island, I hardly wrote at all.
I have been soaked by this fountain more times than I care to admit.
It's hard to write when the sea is right there. It's hard to write when there's music on at the pub. It's hard to write when you're greedy for other people's company. It's hard to write when you're on top of a bicycle or hiking or losing the feeling in the top layer of your skin as you float in the north Atlantic.
I finished my book two months ago. It's been edited, and edited again, and sent off to friends to read and a sensitivity reader; and I'm not altogether certain that it would have ever happened if I hadn't come back to my small town north of Omaha. This place has just enough of the pattern of a larger world – of brick, of train lines (though if you were to get on a train these days, you'd only have two choices: one Amtrak leaves at 5 AM for Chicago, and the other goes at 11 pm for San Francisco,) of art (the Joslyn Museum being a somewhat smaller, and distinctively pinker, Art Deco iceberg than the Union Station,) of food (every few months I budget thirty-five dollars to have dishes I don't quite recognize and beautiful bread and a glass of Pinot Grigio at La Buvette, which suggests Parisian grunge without being in any way Parisian) – to keep me hungry, while being so profoundly familiar that my brain does, occasionally, stop skipping and seeking, and let me focus on words.